IMMERSIVE
ENVIRONMENTS

Experiential Marking and Immersive Environments are physical spaces created to entertain and educate attendees through a multi-sensory experience. These activations are often held at large venues, arenas, festivals, and convention centers, to small creative studios and galleries. We work with designers, producers, production companies, fabricators, marketing agencies, and creators to develop fabric-based solutions to construct these creative experiences. We are here to support the needs of the project at any level. From providing rolls of fabric, rental drapery, to full on custom fabrication and installations.

Projection Screens & Surfaces
Fabric Ceiling Treatments
Blackout Panels & Curtains
Sound Absorption Drapery
Custom Sewing Services
Wide Format Fabric Printing
Masking Drapery
Curtain Track
Fabric Structures
Space Dividers
Kabuki Drops
Light Diffusion Panels
Award Show
Galas
Movie Premiers
Weddings
TV & Film Productions
Stage Productions
Brand & Marketing Events
Trade Show & Exhibitions
Restaurants & Retail

Disk Curtains
Disks are made from 100% PVC and are NFR. Each disk is linked together by a small metal ring. Strands are comprised of alternating 10cm and 5cm disks. Standard vertical spacing is 1 ½". The top can be made to your specifications.
Available In:
     – Mirror Metallic Gold
     – Mirror Metallic Silver
     – Matte White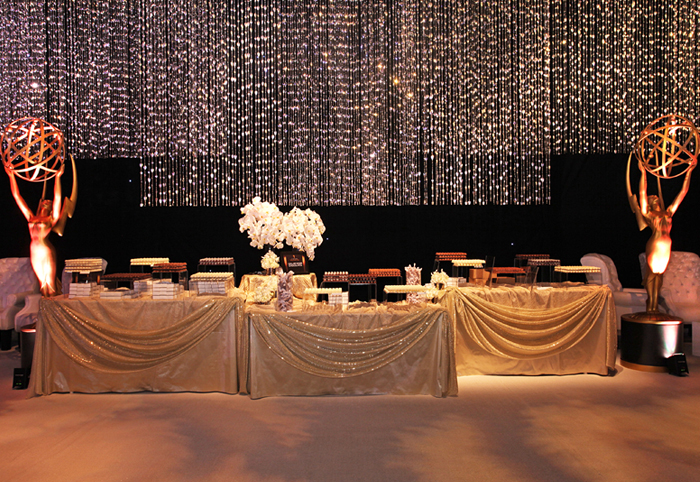 Bead Curtains
Beads are made from 100% Acrylic and are NFR. We offer a variety of bead shapes, styles, and colors to create everything from elegant swags, backdrops, and chandeliers. All are custom made to your design.
Available In:
     – Silver
     – Gold
     – Iridescent

String Curtains
String Curtains provide a soft, semi-translucent, modern look to any event or stage production. They come in a wide variety of colors that can be cut and sewn to create; curtains, chandeliers, exhibitions, interior décor, projection and lighting surfaces.
Popular Colors:
     – White
     – Silver
     – Black

ChromaLink™ Chain Curtains
Made from 100% Aluminum, ChromaLink™ Chain create stunning chandeliers, room dividers, stage and event curtains, projection surfaces and interior décor! Multiple colors can be linked together to create unique patterns, shapes, and logos.
Popular Colors:
     – Silver
     – Black
     – Gold

Rain Curtains
This fun classic has evolved over the decades from a funky backdrop, to creating some of the most elegant and shimmering event curtains and brand activations. With stands as thick as 1/8" up to 1" and in a wide selection of colors, finishes, and textures.